SLAP Masters Swim Practice
We are the largest, longest running, and most organized US Masters Swim Team in Central Florida. The SLAP swim workouts are all 1 hour in length and do not require an additional facility membership. We provide coaching and support for individuals training for US Masters swim meets, open water swim races, triathlons, swimrun events, general fitness, and much more.
Beginner, intermediate, and advanced athletes can ALL benefit from professionally coached practice sessions. Each of the SLAP coaches have decades of experience working with swimmers and triathletes. Our passion is helping YOU achieve your GOALS…while having a bit of FUN along the way! We welcome USMS Masters swimmers, triathletes, and fitness athletes of all ages (18+), abilities, and athletic goals.
All participants MUST have a current membership with US Masters Swimming OR USA Triathlon. Please bring proof of membership to your first swim or email us a copy.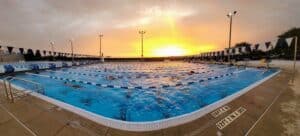 Connect with teammates - Learn about upcoming race opportunities - Share race news and info with the local community - Catch updates about practices and training locations - Ask questions and help others find answers - Cheer for others and get accolades for yourself!
Practice Locations & Training Schedule
NTC - Clermont
Waterfront Park - Clermont
Advent Health - Celebration
Chris Lyle - St. Cloud
Windermere Prep School
NTC - Clermont
Practice days & times are:
Monday/Wednesday/Friday 6:00-7:00a

Tuesday & Thursday 12:00-1:00p

Tuesday & Thursday 7:00-8:00p
Directions to the enter the pool for NTC members:
Walk through the front doors and scan your membership card as normal.
Directions to enter the pool if you are NOT an NTC member:
If it's your first swim at the NTC, enter the front doors and ask to sign the facility waiver at the front desk. After your first swim, all non-members must park in the South Lot and enter through the South Gate (see image below). Save and show the "SLAP approved" image at the gate.


Waterfront Park - Clermont
Advent Health - Celebration
Chris Lyle - St. Cloud
Windermere Prep School
wHAT DOES "MASTERS" MEAN?
Masters Swimming is a training group for anyone 18 years and older. We have a youth triathlon team for athletes under 18 years old…or we suggest joining one of the local Central Florida age group swim teams.
How do I know if this program is for ME?
Come try one or two practices for free! Meet the coaches, try out a swim session, ask questions, meet the other swimmers, check out the facility and pool, etc. Email us ahead of your first swim so we know to expect you on deck!
Do I have to compete or race?
Nope! You can use the swim training for fitness, exercise, and health. You can use the group for accountability and motivation. Exercise is always more fun when you're suffering with friends!
I'm not a swimmer, I'm a triathlete.
Awesome, we are a swimming AND triathlon coaching company so we love everyone equally! We will help you achieve YOUR goals in the water…whether they are swim racing, triathlon racing, or general fitness.