What is Your Current Swim Level?
Chose from the options below to see how we can help you reach your goals.
Stop by Dash Sports in Downtown Clermont to pick up all your swim gear and equipment. #SLAPPERS receive 10% off their swim bundle of paddles, kick board, mesh bag, fins, and pull buoy. Let the professional staff at Dash Sports help you find the right size and fit of wetsuits, goggles, and running shoes!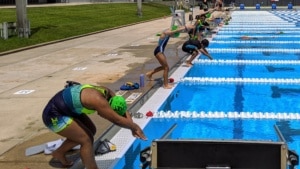 Don't forget about the kids! We offer swim, bike, and run training sessions for athletes 6-15 years of age. If your little ones are inspired or want to try a triathlon...check out the SLAP Youth Tri Team!