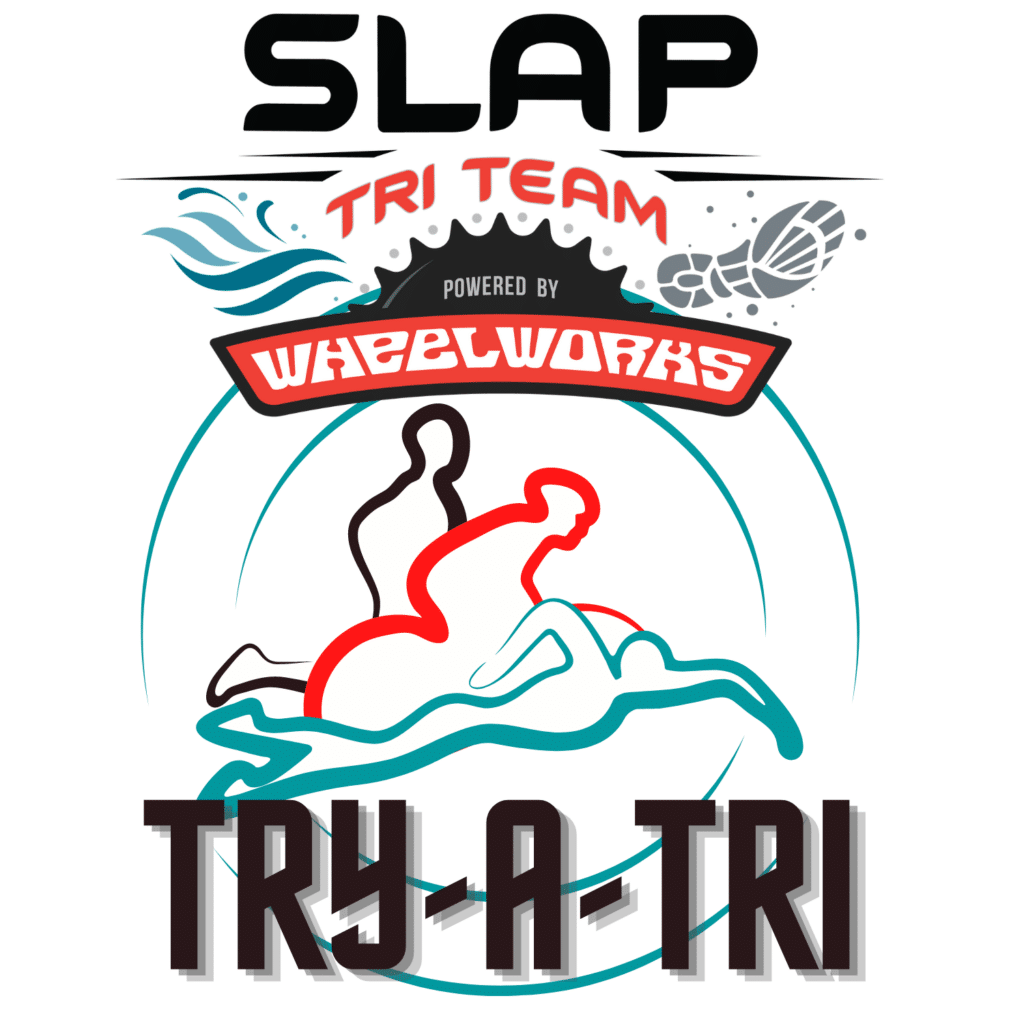 Hello "Future Triathlete"!
We are so excited that you are interested in taking the plunge into the world of triathlon…and we want to make sure that your experiences is smooth, enjoyable, fun, full of new friends and teammates, and that your first (and second, and many more) races are finished with a smile on your face!
A SPRINT TRIATHLON is a great place to start in the sport:
400-750 meters of open water swim

8-12 miles of cycling on paved roads

3.1 miles/5k of running (walking is allowed :))
The triathlon community and the SLAP Tri Team is a welcoming, diverse, and accepting group of athletes…at one point, we were all where you are right now: preparing for our first event. And we were all nervous, scared, a little bit excited, and filled with tons of questions!
Let our professional coaching staff help you get to the finish of your first races feeling confident, prepared, and excited!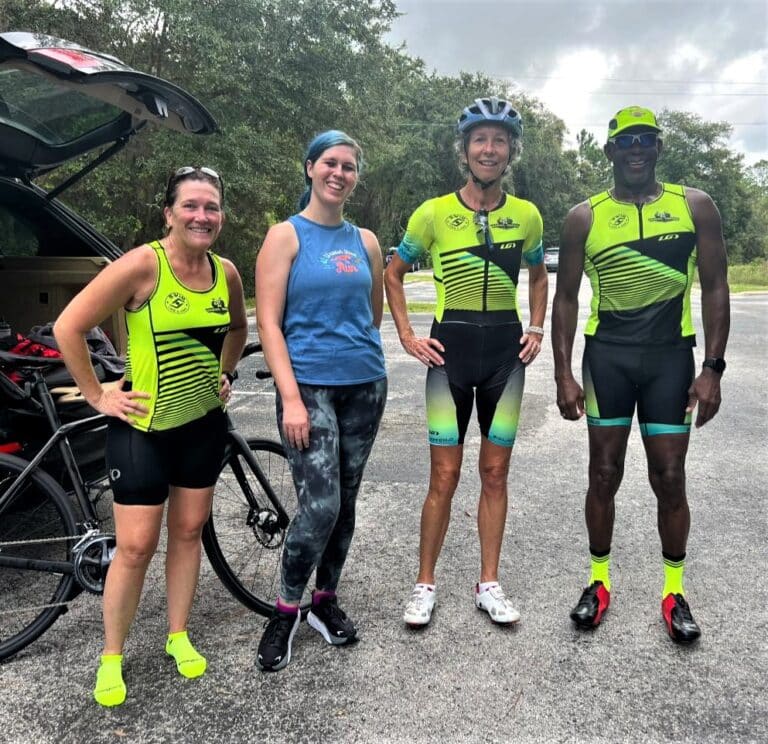 No matter what level athlete you are (and maybe you don't consider yourself an athlete yet)…you CAN complete a triathlon in 8 weeks with the coaching, encouragement, and guidance offered by the SLAP Coaches!
The SLAP team and coaches are amazing and encouraging. The team workouts are always fun.
Coach Beth was absolutely amazing

! She encouraged me to challenge myself and pushed me in subtle ways at every practice.
2023 – SLAP Try-A-Tri Program #2

Training Start Date – May 20, 2023
The second SLAP Try-A-Tri program in 2023 is open to men & women who will be training for the local sprint triathlon on July 8th. Led by SLAP Coach Beth Baumgarten, we are excited to welcome a new group of people to the sport of triathlon. The theme of this life-changing experience is fun, friendship, and fitness
. The program will run from May 20th to July 8th and conclude with participation in the Cool Sommer Morning's local sprint triathlon hosted at Waterfront Park in Clermont.
We are excited to welcome a group of 5-10 novice people that are interested in a positive, fun, and group experience to prepare for their first (or second/third) triathlon. Coach Beth (with her years of personal race experience and compassionate coaching methods) will lead the group with weekly in-person training sessions, discussions, and group chats to help everyone to understand all the terms, info, rules, best methods, gear choices, and techniques to have a successful finish. 
Leading up to the race, you will meet and be mentored by other SLAP athletes who have completed the SLAP Try-a-Tri programs and have continued in the sport to this day. Even on race day, you will find course-wide support from other members of the SLAP Tri Team (commonly known as #SLAPPERS)…from kayak support, to smiling faces at aid stations, to teammates cheering along the course, and a special celebration at the team tent after you cross the finish line!!
What is included with this program?
Prior to the start of the program, you will be asked to complete a questionnaire about your current abilities in each sport, what gear you already have, what your past sporting history is, and what your triathlon goals are. Coach Beth will reach out for a quick chat to introduce herself and answer any last minute questions you might have.
All SLAP Try-A-Tri athletes will be set up with an online Training Peaks account to receive and record their daily training workouts.
There will be 2 weekly in-person training sessions with the other Try-A-Tri athletes and the SLAP Coaching squad (Sara, Todd, Beth, etc): The days and times of these sessions will be determined closer to the start of the training program to match with the group's availability. 
We offer 9 weekly group swim workouts in the pool and you are invited to participate in 2-3 sessions each week that fit best with your schedule. At these pool sessions you will get to interact with other #SLAPPERS (the term for everyone on the SLAP Tri Team) that will gladly share their personal advice and stories from their first race experiences.
All participants will be invited to attend a swim stroke technique clinic with SLAP Head Coach Sara McLarty to learn the basics of a successful freestyle technique and how to prepare for the open water conditions.
You will get to select a free SLAP Tri Team Hat or Visor…and you are encouraged to visit our partner bike shop (Winter Garden Wheel Works) to check out our team triathlon race kits and apparel (not mandatory).
Frequently asked questions