Youth 1-on-1 Triathlon Skill Sessions
We are passionate about helping our #miniSLAPPERS improve at all the sports. We can see the thrill in their eyes when they learn a new skill. Their confidence grows as they see themselves succeeding and progressing in swim, bike, run, and transition skills.
 Our skilled Coaches will focus on teaching your child the correct technique for swimming strokes and improving their skills in the water to become an overall better swimmer. Our experienced Coaches have years of experience (racing and coaching), knowledge of the sport, and a passion to help your child get more comfortable and improve their technical skills on the bike and through the transitions.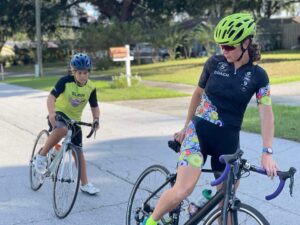 Your child must know the basics of swimming…this is NOT a "learn to swim" program…to schedule swim-specific lessons. We expect them to be comfortable with their face in the water, wearing goggles, and (at a minimum) swimming freestyle on their stomach and backstroke on their back. Your child must be riding a road bike…skinny tires, gears, road handle bars, etc…to schedule bike-specific lessons. A helmet is a mandatory piece of equipment at all times when using a bike. 
Whether your child enjoys triathlon for fun, for fitness, or for competition, our SLAP Coaches will provide creative lessons that encourage improvement at all levels. These sessions are one-on-one with a specialized SLAP Coach (we encourage a parent to attend the session with their child, at a distance, to watch and learn the skills they are working on). To register your child for any private lessons, please follow the instructions below:
Schedule a lesson for your #mini here:
1) purchase a single session (45-55 minutes each) or 3-pack of sessions from the dropdown below and we will reach out to assess and schedule lessons
2) email us (use the contact form at the bottom of the page) for a skill assessment over the phone, request more details and scheduling availability and then come back here to purchase