We're always up for an adventure…especially if it involves having fun with our #SLAPPER teammates! Fitness and fun activities are the cherry on top! We've done some incredible things over the years:
swim workouts in the cool spring waters of Central Florida

kayaked and swam in the beautiful rivers around Ocala

organized group bike rides to fun destinations (bakeries, wildlife refuges, etc)

host open water swim training in the Gulf of Mexico on Honeymoon Island State Park

organized 9-person triathlon relays that completed a full iron distance race

swam 8-miles around Alligator lighthouse in the Keys

ran 200+ miles through the Blue Ridge Parkway

volunteered over 200 hours at local events

…and so much more. Stay tuned for the next adventures with the #SLAPPERS!
**Even better…if you have a SLAP TEAM ADVENTURE IDEA…contact us and we'll work out the details!**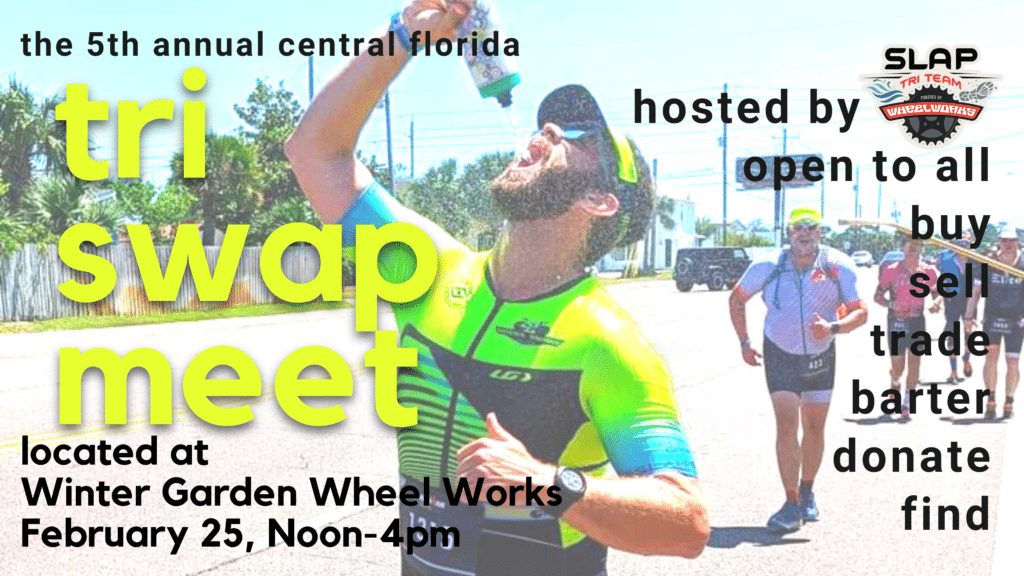 The 5th Annual Triathlon Swap Meet! 
Triathlon is an expensive sport! We like to help make it accessible to beginners and experienced athletes by sharing our gear that we don't need anymore.
Empty out your closet & garage of any gear that you don't need anymore! Maybe it's still new but you never used it. Maybe it's used but still has many more miles of life. Maybe you just upgraded some gear…and your old gear deserves a new home!
You can BUY, SELL, TRADE, DONATE, BARTER, or just GIVE IT AWAY at our donation tables.
See you at Winter Garden Wheel Works (swap meet will be located out in the BACK parking lot) on February 25th from 12-4p. 
#SLAPPERS VOLUNTEER OPPORTUNITIES
If you want to watch some of the fastest kids in the area compete at the FLAGS swim meet (and some of our #miniSLAPPERS will be competing!)…sign up for a 5 hour time block. 
You don't have permission to view this page.
#miniSLAPPERS Intro to Tri Clinics
Thanks to a successful "parking fundraiser" during Pig on the Pond…the #miniSLAPPERS team will be hosting 6 FREE clinics for youth to explore the sport of triathlon. You can register for the event using the sign-up-sheet…or you can email us with any questions! 
Sign Up
You are signing up for...
FloDASH Turkey Trot on November 24, 2022