#miniSLAPPERS Youth Triathlon Camps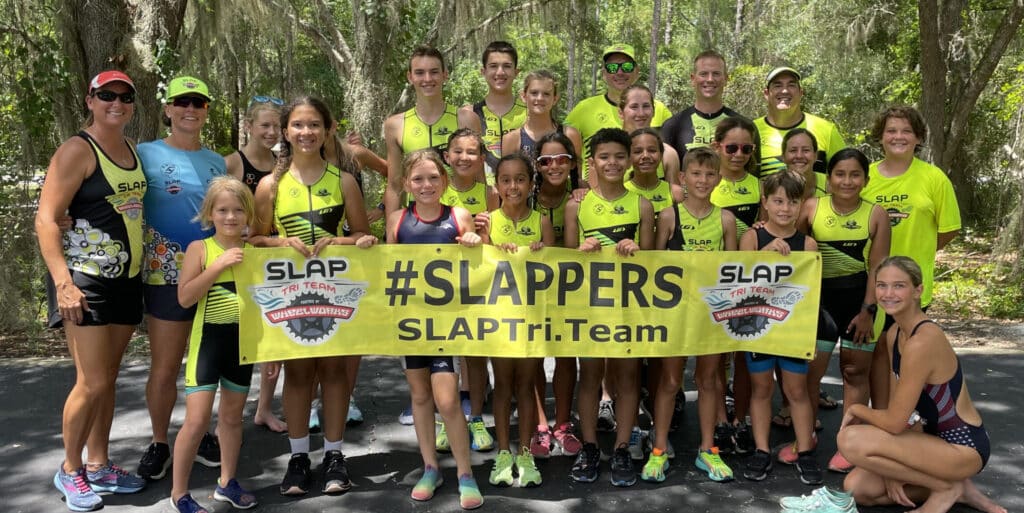 In 2023, we will be hosting lots of tri camps for the #miniSLAPPERS:
6 FREE "Intro to Tri" camps for kids between the ages of 7-14 to explore and test out the sport

2 multi-day SLAP Development Team Camps

7 High Performance Squad immersive training sessions
See below for details and message us if you have any questions. We continue to fundraise and accept donations, sponsorships, and gear for the team to keep the costs of these camps low for all families to participate. Our passion is getting children active and healthy…let us introduce your little ones to the fun triple sport of triathlon!
We require that every child has a USA Triathlon membership (for insurance purposes), a bike with working brakes, a helmet, and everyone must be able to swim the length of a competition pool with their face in the water
We also welcome and happily accept parent volunteers to assist with logistics, snack time, and safety!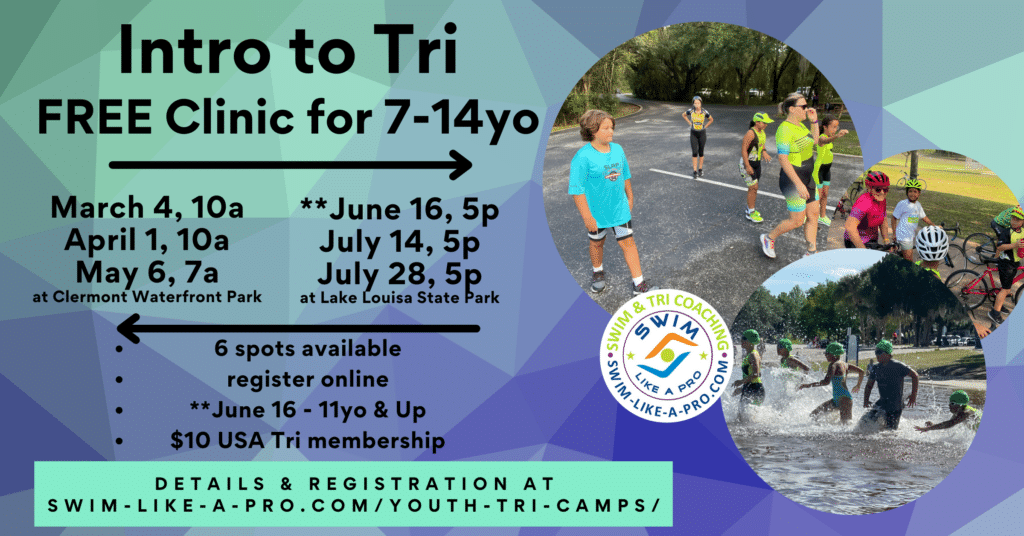 Sign Up
You are signing up for...
#mini Camp Participant on August 18, 2023
Intro To Tri Camp
This is a 2-3 hour camp for youth athletes 7-14 years of age with little to no triathlon experience. These camps are specifically designed to help athletes see if they want to pursue the sport or participate in an event in the future. The June and July camps in Lake Louisa are on Friday evening to specifically help the participants prepare for the TriKidz youth triathlon race that will happen in the same location the following morning.
Camp will be focused on introducing the participants to the sport of triathlon, learning transition skills, having fun while participating in swim, bike, and run activities, and understanding the rules of the races. The final event of each clinic will be a mock-race to get the full "race" experience.
Register your child using the sign-up-sheet links to reserve a spot for your child (camp is limited to 15 participants).
*If you can volunteer at camp, please let us know! We rely on parent support to make these camps a success!
Registration Instructions:
For "Intro To Tri" camp, register your child(ren) using the sign-up-sheet on the date you would like them to attend.

If interested, email us to be a parent volunteer at camp.

Look for an email with camp details and additional information in the days preceding each camp.
Development Camp Registration
Development Camps
Camp #1 – June 17 & 18 –
Saturday will start with the TriKidz event in the park in the morning. Camp will start at 11a with a potluck lunch at the Team Cabin in the park. Each camper will need to come with a food item to share (details will be sent out closer to the date).
Saturday camp will run from 11a-5p. Please save your park entry receipt to come back in the evening.
Sunday camp will be from 8a-4p. Be in line for the gates opening at 7:55a (do NOT follow an early-park-person through the gates). We are providing snacks and lunch on Sunday. Be back at 4p to pick up your #miniSLAPPER.
Camp #2 – July 28 & 29 –
Friday camp is 2-7p and Saturday camps is 8a-4p. The camp focus is to prepare for the USA Triathlon National Championships in Milwaukee the following weekend. Sunday is an optional youth triathlon in Winter Park (we will offer a group bike ride AFTER the race to bike as a team on the trail, get lunch, and bike back)
**Athletes are NOT required to be participating in the Nationals event to attend camp. 

Both camps will be held at Lake Louisa State Park.
Register your child using the PayPal button to reserve a spot for your child (camp is limited to 15 participants).
*If you can volunteer at camp, please let us know! We rely on parent support to make these camps a success! 
SLAP Youth tri camp faq'S